Happy New Year!
THE FIRST Freestyle Skiing COMP IS THIS SATURDAY
January 3, 2015, Hyland Hills
Registration at 4:00pm—Training 4-5pm
Event starts at 5pm.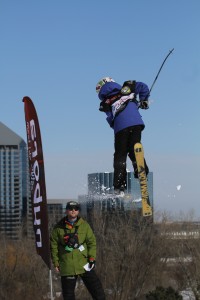 This is a double meet!  Two Slopestyle events.
READ IMPORTANT DETAILS BELOW!
Returning skiers – PLEASE BRING YOUR BIB to each competition
Registration in simple! 
Step 1) You will need a valid USSA license (details how to get this are below). Please obtain this license before the event. PROOF OF AN ACTIVE USSA LICENSE WILL BE REQUIRED AT EVENT REGISTRATION.  You are able to print your card from your account on the USSA website.
Step 2) You will also need a completed MFA registration form.  Please print this and bring the completed form to registration.
Step 3) Registration is $45 for one event, $65 for two events.  Cash or check payable to Midwest Freestyle Association.
REGISTRATION FORM
If you haven't completed yet, please bring this completed waiver with you to registration:
You can also find the schedule here:
DETAILS
Schedule for January 3 (remember, this is not a timed event and times are approximate):
Registration is at 4pm, in the Hyland Chalet.
Note: The Hyland chalet is under construction. You are required to park remotely and take a shuttle. Just follow the signs.
Training starts approximately 4pm.  1 Hour of training
Course closes for short maintenance period (approximately 10-15 minutes)
Comp starts after 1 hour of training and the maintenance period
Comp end time depends on number of skiers entered and pace of the event
Each competitor will have 2 runs in the meet they enter.  Best run counts.
This is a double meet, meaning there are 2 Slopestyle competitions back to back.
All awards will be after all scores have been totaled.
New to USSA competition?  Make sure you check out this handy guide written by a Nybora parent alum, Al Dutcher.
If you want to compete, you need a USSA LICENSE! Take care of this BEFORE you get to Hyland. 
All Nybora and MFA events will be sanctioned by the United States Ski Association (USSA).  That means that in order to participate in a MFA or Nybora competition event this season, the participant needs to obtain a USSA license/membership.  PLEASE OBTAIN YOUR USSA LICENSE PRIOR TO THE EVENT.  This is a competitor license that can be obtained online (info on how below).  Having USSA sanction all of our events helps ensure a consistent and safe event and allows all of our events to receive a national ranking.  National ranking is important to the division because it is through national ranking that we are able to qualify skiers for Junior Nationals at the end of the season.
Three types of licenses are available from USSA (from the USSA website):
Competitor License: if you've been a member of USSA in the past, this is the license you need.  You should have received your renewal earlier this year.  Cost = $150-175/season
Rookie License for 13 and up: All first time USSA members could obtain this license/membership.  Note: if a skier qualifies for Junior Olympics, she/he will need to upgrade this license to a Competitor License.  Cost = $80/season
Youth Competitor: 12 and under competitors that do not wish to be ranked and will not be eligible for Junior Olympics.  Cost = $60/season
And..once again this year, Central is the ONLY division WITHOUT a division fee!  So you just need to get your USSA License (outlined above) and you're set!
USSA membership can be obtained online by visiting:
http://my.ussa.org/membership/start
YOU WILL NOT BE ABLE TO SIGNUP FOR USSA AT HYLAND. PLEASE REMEMBER TO OBTAIN YOUR USSA LICENSE BEFORE THE EVENT!!!
If you have any questions, please contact info@nybora.com.
We hope you'll be a part of the fun with Midwest Freestyle Association this season!
You have plenty of opportunities to compete in Freestyle skiing.  Just take a look at the 2015 Schedule found on nybora.com.  You'll need a USSA License.
Each meet will have an event registration fee, but they've been kept low again and will range around $45 depending on the event.  Central is the only division that does not charge a division fee at the beginning of the season.
The 2015 season should be a blast!
Thank you,
Midwest Freestyle Association
USSA Central Division Freestyle