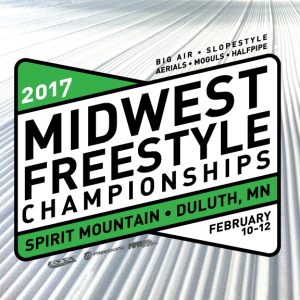 The biggest event of the year!
Crown our Midwest Champions!
Don't miss out on a 
massive
 weekend of competition this Friday, Saturday and Sunday, Feb 10, 11 & 12 at Spirit Mountain!
Friday, Feb 10
Big Air
Registration downstairs in the Spirit chalet (same room) 5pm
Big Air training 5-6p
Event will start approximately 6:00pm
Saturday, Feb 11
Slopestyle and Halfpipe
Registration at 8:30am downstairs in the Spirit Chalet!
(If you already registered on Friday, you do NOT need to register again on Saturday)
Slopestyle Training 9-10am
Slopestyle start approximately at 10:15am
We will run straight through the Slopestyle event and then move to Halfpipe training & Competition.
Divisional pasta dinner 5pm (extra cost, details below)
Registration at 8:30am downstairs in the Slopeside room in Spirit Chalet! (If you already registered on Friday or Saturday, you do NOT need to register again on Sunday.)
Mogul training 9-10am
Event will start at approximately 10:30a
Registration
Registration is $100. This includes entry to all skiing events and an event T-shirt!   The price is the same whether you choose to ski in 1, 2, 3 or all 4 of the events.  Cash or check payable to Midwest Freestyle Association.
Pay in person or if you want to pay online… Click here to pay by credit card for event registration.  Please indicate which events you are skiing in the notes: 
PayPal.Me/MidwestFreestyle
Bibs
We are running low on bibs. PLEASE BRING YOUR BIB IF YOU HAVE ONE. If you still need to get one, you can pick one up at registration. Each bib requires a $35 deposit, which is refundable upon return of a (undamaged) bib.  Or you can just keep your bib for $35!
All USSA-licensed Central skiers are welcome to ski!  We will be awarding our 2017 Central Division Slopestyle and Big Air champions!!
End of Season Divisional Dinner!
As another year of divisional competition comes to an end, it's also time for the Divisional dinner! This is an optional event, but all competitors and competitor families are welcomed and encouraged to attend!
Here are the details:
Saturday, 5p
$12 per person
Pasta with red or white sauce, salad, breadsticks and lemonade or water. Cash bar available.
Fireside room (next to the Moosehead bar in the Spirit Mountain chalet)
Cathy Kidd will be collecting money at registration
It will be a blast!
See you in Duluth!
Thank you,
Midwest Freestyle Association
USSA Central Division Freestyle