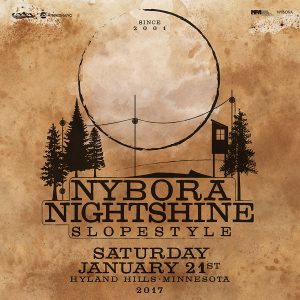 17th Annual Nybora Nightshine!!
This Saturday!
Hyland Hills Ski Area
Double Slopestyle eventFirst Big Air event of the season!
This Sunday!
Hyland Hills Ski Area
Double Big Air event & Double Aerial eventSchedule of events:
Saturday, January 21 – 2p registration and training, 3p start
Sunday, January 22 – 9a registration and training, 10a start
New!  Online Registration!  Click here to complete event registration:
ONLINE REGISTRATION
Click here to pay by credit card for event registration: PayPal.Me/MidwestFreestyle
Event Fees: 
Nightshine Saturday Fees (Double Slope):  
$45 for one event
$70 for both Slopestyle events
City Air Sunday Fees (Double Big Air and Double Aerials):
$45 for one event
$70 for two Big Air events
$85 for all four AIR events on Sunday (adding on the two Aerials points)
Or you can register in person:
Registration is simple! 
Step 1) You will need a valid USSA license (details on how to get this are below). Please obtain this license before the event. PROOF OF AN ACTIVE USSA LICENSE WILL BE REQUIRED AT EVENT REGISTRATION.  You are able to print your card from your account on the USSA website.
Step 2) You will also need a completed MFA registration form.  Please print this and bring the completed form to registration.  This form requires a parent signature, please plan ahead.
Step 3)  hey!! NEW THIS YEAR!! You will need to complete a Three Rivers Parks District Release of Liability. This must be signed by a parent of skiers under 18. Once again, please plan ahead.
Step 4) Registration Fees:
Cash or check payable to Midwest Freestyle Association.  We are unable to accept credit cards on site.  But you can pay ahead of time here: PayPal.Me/MidwestFreestyle
Step 5) Bib fee of $35.  If you already have a black MFA bib, bring it with you.  You are all set.